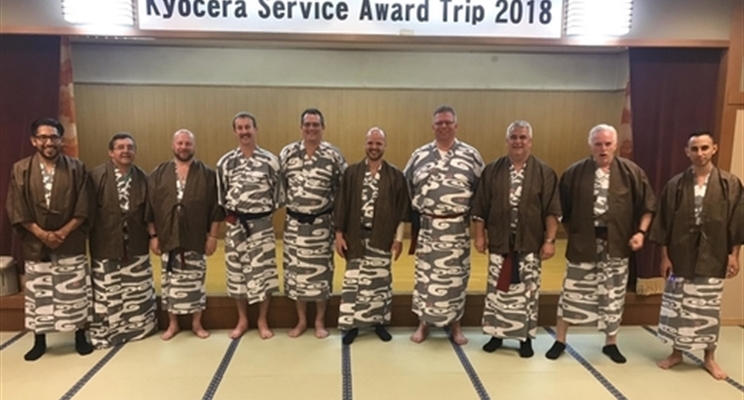 Here is Phil Myatt's personal diary of the events:
Each year one of the manufacturers that Principal work with run a competition to challenge service technicians, it starts with an online theory test of 30 questions. Over the years in have been fairly successful at this stage and made it to the UK finals on more than one occasion.
Last year, I won the UK finals in May and went over to KDSE headquarters in Meerbusch near Düsseldorf in October for the European finals. Up against the winning techs from 12 countries in Europe including Russia and South Africa, completing theory and practical tests encompassing both hardware and software. I finished in the top 3, winning a trip to Vietnam and Japan to visit Kyocera Head Office and manufacturing sites.
May 4th 2018, after parking my car at our Horsham I set off for Gatwick and the start of this great adventure, the first step was aboard the A380 double decker Airbus to Dubai where I joined the other European winners Eric and Kevin and Ivanildo, the winner from Brazil before heading to Hà Nội Vietnam, where we were joined by Reymond from Costa Rica and Armando from Mexico.
At Breakfast we were joined by Steve from Indiana and Simon from New Zealand before heading out with our guides for a tour of the city including the museum of Ethnology and Hoa Lo Prison, (the Hà Nội Hilton).
Monday we had an early start heading out of Hà Nội's rush hour to Kyocera's newest manufacturing site in Haiphong. Here we received a warm flag waving guard of honour as we arrived and a personal welcome from Mr Ueda Masaru the General Director and his team, after introductions and a short PowerPoint showing how quickly they have exceeded their productivity targets we were escorted around the impressive manufacturing facility.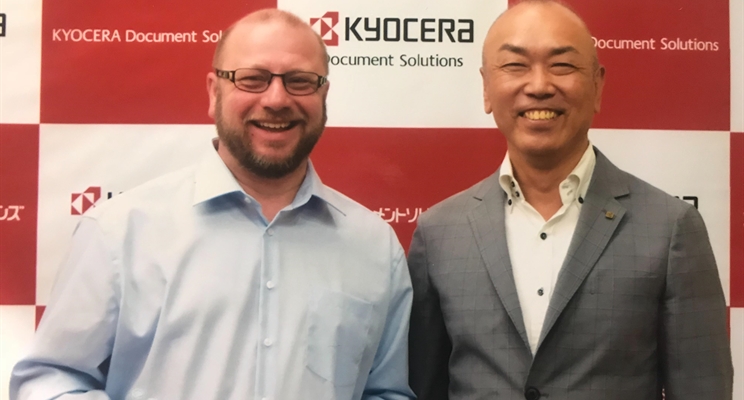 After an exchange of gifts and photo opportunity we transferred to a local restaurant for lunch as guests of the management team before jumping back on the coach to Hà Long Bay and the Orchid Cruise.
Just enough time for a quick swim and kayak before a cookery class making Vietnamese spring rolls and then dinner on the boat's upper deck. Up early again to catch the sunrise and a 6am Tai Chi lesson.
Quick breakfast and out to look around the caves on a traditional wooden fishing boat. After lunch we headed back to Hà Nội to continue our city tour including Quoc Tu Glam temple of literature and Tran Quoc Pagoda before dinner and transfer to the airport for our overnight flight to Osaka.
Breakfast time arrival at Kansai International and a wet 22C compared to the 34C enjoyed earlier. Transfer to Osaka and check in, a quick change and a walk around Osaka to get our bearings and stretch our legs and lunch at a traditional noodle omelette bar. A fresh up before casual evening meal at a Korean bbq restaurant.
Thursday was a full day sightseeing around Kyoto including Fushimi Inari Shrine, Nino Castle with its Nightingale floors, Kinkakuji Temple, Arashiyama bamboo grove and Tenryuji Temple.
The evening meal was courtesy of the KDS directors from Osaka where the traditional Sake pouring was in full flow, although with another early start looming some clever abstaining was required.
New shirts freshly pressed we set off to KDS head office in Osaka for another rapturous welcome from the staff. Some more PowerPoint and photo opportunities ensued. We were shown some of the stringent reliability tests that are carried out for extreme temperatures and the packaging strength tests designed to challenge even the roughest of UK couriers. Back on the coach and back to Kyoto and Kyocera headquarters and fine ceramics and art museum.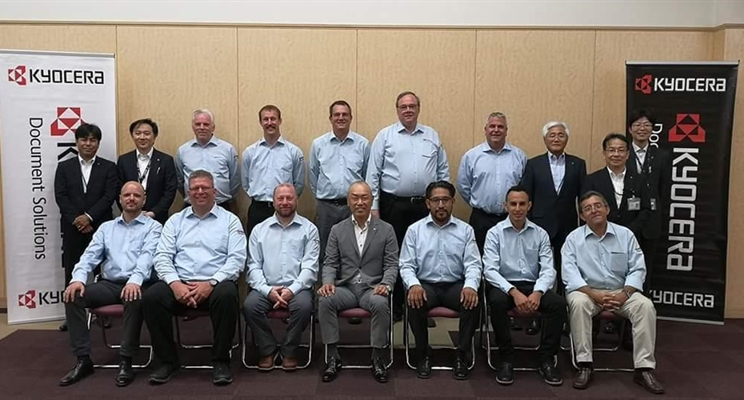 After a short film about Doctor Inamori we took a walk through a history of fine ceramics and all the products that Kyocera has produced from a humble ceramic insulator used in CRT TV tubes through to items used in space.
Back on the coach again and crossing the world's longest suspension bridge onto Awaji Island for an overnight stay at a traditional Japanese Ryokan (hotel) and Onsen (hot spring). Dressed in full Yukata we headed to the banquet room for dinner and speeches. Sunrise at 04.52 was photographed before Onsen and breakfast and return coach travel via Himeji Castle and lunch and tasting at Shushinkan Sake Museum, back to Osaka and our farewell Kaiseki dinner at Kawakyu on the 34 floor.
The journey back to the UK via Dubai was uneventful if a little long, with farewells and contact exchanges at the airport as we all went our separate ways with great memories of a fantastic trip.Back in the UK by lunchtime gave just enough time to change back into work clothes and sneak in a call on the way home, nothing like getting straight back on the horse.
Sayōnara, Arigatou gozaimasu Kyocera, and thank you Principal.
"I entered last year and I have just got back from a once in a lifetime trip to Vietnam & Japan thanks to Kyocera Document Solutions"
Phil Myatt